Praha (CZ)
The Prague Castle
The Prague Castle is the most important castle in Bohemia. Originally an early medieval fortress, it stands on a rocky outcrop overlooking the Vltava River in the centre of Prague. Since the 9th century, it was the seat of the dukes and later kings of Bohemia. Since 1918, it serves as the seat of the president of the republic.
GPS: 50°5'26.995"N, 14°24'1.713"E
The Infant Jesus of Prague in the Monastery of Discalced Carmelites
The monastery -- and the church of Our Lady of Victory that belongs to it -- is a partly Renaissance, partly Baroque complex of buildings within a UNESCO-protected site. The church houses the statue of the Infant of Prague, which came to Bohemia in 1556. Every year, it is visited by hundreds of thousands of people who pray here for peace, health, or safe delivery of children.
GPS: 50°5'7.898"N, 14°24'14.054"E
Charles Bridge
The Charles Bridge is the oldest extant bridge in Prague, It was founded by Emperor Charles IV in 1357 in place of an earlier, 12th century Bridge of Judith, which was destroyed by a flood.
GPS: 50° 5' 11.42"N, 14° 24' 40.65"E
Old Town Hall and the Astronomical Clock
The astronomical clock itself was made in 1410 by Mikuláš of Kadaň and in late 15th century further improved by Master Hanuš of Růže. According to a popular late-19th century story by Czech writer Alois Jirásek, Master Hanuš did not have the opportunity to please himself by looking at his creation for long. The elders of Prague decided to have him blinded in order to prevent him from making a similar clock for another town. Master Hanuš revenged himself by stopping the astronomical clock. In fact, however, the clock stopped in 1865 and there was danger it would be simply removed. Fortunately, though, a Prague clockmaker Ludvík Hainz managed to repair the mechanism and he and his descendants then became its custodians. The astronomical clock has three parts: an astronomical dial representing the position of the Sun and Moon in the sky, the 'walk of the Apostles', which is an hourly show of figures of the Apostles and other beings (such as a Turk and Death), and a calendar dial representing the months. The Old Town Hall was built in 1364 and extensively renovated in 1470 in Gothic style. It hosts civic ceremonies, exhibitions, and an information centre.
GPS: 50°5'11.746"N, 14°25'11.834"E
The Jewish Quarter
The Jewish quarter of Prague, located between the Charles Bridge and the Old Town Square, arose in the 13th century, when Jews from various parts of Prague had to move to one place. Over time, it became the most important Jewish community in the Czech Lands. This quarter or 'town', later known as Josefov, had its own administration, courts, schools, and some very famous rabbis such as Bezalel ben Yehuda Loew (Maharal) and David Ganz. Its cultural and economic standing is attested by the fact that until mid-17th century, it represented all other Bohemian Jewish communities in their relations to the king and land authorities.
GPS: 50°5'23.089"N, 14°24'59.191"E
Petřín Observation Tower
Petřín observation tower is a small version of the Eiffel Tower, which, however, grew to be a bit taller than its 'sibling'. It was built in 1891 for the Jubilee Exhibition. It was just two years after the elegant, 361 m tall tower in Paris was finished that an observatory tower rose on a hill overlooking Prague and its river. It reaches elevation of 378 meters above sea level but is in fact just 60 meters tall. Visitors who climb 299 steps will be rewarded with a magnificent view.
GPS: 50°5'0.758"N, 14°23'42.180"E
---
Mariánské Lázně (CZ)
Mariánské Lázně, also known as Marienbad, is the second largest Czech spa. It is best known for its vast array of mineral springs. In early 19th century, architect Václav Skalník designed bold changes and founded parks, which are alongside mineral springs still the most characteristic feature of the town. In 1866, Marienbad received status of a town and by early 20th century, it was one of the most important spas in Europe.
Current view of Marienbad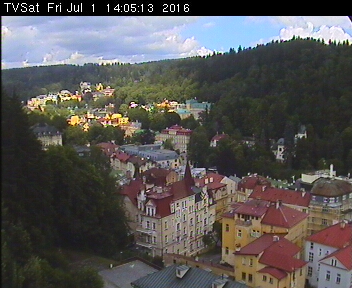 A colonnade from 1889 – itself an important architectural monument – functions as the main promenade of the spa. Three springs -– Křížový, Karolinin, and Rudolfův – are brought here to the surface to be used in drinking treatments. Among the best known other springs are Ferdinandův, Lesní, and Ambrožův. In front of the colonnade stands the singing fountain, short distance away is the Church of Assumption of Virgin Mary, and westwards, behind Hlavní třída (High Street) stands the Russian Orthodox Church of St. Vladimir and an Anglican church.
The singing fountain was built in 1982−1986 by the town's National Council as part of a comprehensive renovation of the promenade, which then bore the name of Maxim Gorky. The author of the project was architect Pavel Mikšík and the first musical composition of 'Music for the Fountain' is the work of composer Petr Hapka. The fountain first sounded on April 30, 1986. Later on, other pieces of music, including works by Chopin, Mozart, Bach, Gounod, and Smetana were also adapted for the fountain. The fountain usually plays every odd hour and pieces of music are regularly rotated.
The fountain is quite unique in its size, artistic approach, and functions. In a shallow round basin of 18m/60ft diameter is a statue of a stone flower with centre of polished stainless steel. The rim of the fountain, tiling, and statue are made of granite from Liberec. The fountain has ten basic jet systems: two consist of 330 jets from pipes around the rim heading directed towards the centre. The dominant central jet reaches 6m/20ft high and four other systems of several hundred smaller jets face from the metal centre of the statue towards the perimeter of the fountain. All these jets combine to create several dozen combinations. Their changes are directed by a computer. Technical facilities are housed underground. They consist of an engine room with ten pumps with 70 kW input, accumulation tank containing 25,000 litres of water and an electric exchange. Control room with a central computer located on the grounds of the colonnade.
The fountain operates from May 1 (with a festive opening on April 30 at 9pm) until October 31 (festive closing at 9pm). Times of operation may change depending on the weather.
Marienbad springs are used to treat the following ailments:
illnesses of kidneys and urinary tract
illnesses of nerves, organic nerve diseases
diseases of the digestive tract
metabolic diseases and disorders of endocrine gland
non-specific disorders of pulmonary trac
skin diseases
disorders of the motor apparatus
Loket
Loket is a Gothic royal castle founded in the 12th century. A tour familiarises visitors with the historical development of the castle and surrounding town. Visitors can also see an exhibition dedicated to local porcelain production and torture room with depictions of medieval punishments. Under the castle is Church of St. Václav and historical town centre.
32km / 20 miles
GPS position: 50°11'13.8"N, 12°45'15.56"E
Kynžvart
The chateau was built for Count Metternich (1773-1859), Austrian state chancellor and one of the foremost European politicians of the time. The impressive mansion is a unique example of representative country architecture in the style of Viennese Classicism and Empire style
10km / 6.2 miles
GPS position: 50°0'15.47"N, 12°36'20.14"E
TEPLÁ PREMONSTRATENSIAN MONASTERY
The monastery was founded in 1193 by Blessed Hroznata, a nobleman and later prior of this monastery. The Church of Annunciation of the Lord, which is part of the monastic complex, was built in 1193–1322 as a massive late Romanesque and early Gothic church with three naves. Its Baroque interior contains important works of art and alongside Masses also offers concerts of sacred music. The monastery owns one of the oldest and most important historical libraries in Bohemia, which includes around 100,000 volumes, valuable manuscripts, incunabula, and rare early prints.
15km / 9.3 miles
GPS position: 49°57'59.767"N, 12°52'41.573"E
Castle and chateau Bečov nad Teplou
The little town of Bečov, whose history reaches back to the 13th century, is found in the valley of River Teplá. It is dominated by the complex of originally Gothic castle and a Baroque chateau. The most noteworthy object kept at the castle is a rare Romanesque reliquary of St. Maurus from the 13th century, one of the most valuable jewellery artefacts in the Czech Republic. The reliquary has an exciting history: for a long time, it was considered lost and only in 1985, it was found under the ceiling of the castle chapel. In the 1990s, it has undergone an extensive and expensive renovation.
21km / 13 miles
GPS position: 50°5'9.741"N, 12°50'23.095"E
Hrad a zámek Horní hrad
Strážní hrad Hauenštejn je královského založení z druhé půle 13. století. Byl velkoryse rozšířen a upraven v neogotickém slohu v průběhu 19. století rodem Buquoyů. Prohlédnout si můžete celý areál hradu s tištěným průvodcem, navštívit patrová gotická sklepení, Rytířský sál s původním vyřezávaným dřevěným stropem, vystoupat na hradní věž, navštívit zámeckou kapli, zhlédnout výstavu dřevěných plastik v hradní galerii a projít se rozlehlým zámeckým horským parkem.
Vzdálenost od apartmánu: 60 km
GPS position: 50°20'46.71"N, 13°1'1.5"E
Významné města
FRANTIŠKOVY LÁZNĚ / FRANZENSBAD
Franzensbad is a spa town founded in 1793 on a regular plan, with church and numerous houses in the Classicist and Empire styles. The spa uses iron- and sulphur-rich peat, natural gas, and carbonated mineral springs. Most treatments offered here focus on diseases of female reproductive organs, cardiac, vascular, and rheumatic ailments.
40km/25 miles
GPS position: 50°7'2.04"N, 12°21'2.497"E
Karlovy Vary
Vyhledávané lázeňské středisko nesoucí jméno po svém zakladateli, císaři Karlu IV. Podle pověsti objevil prý císař zdej¬ší léčivá zřídla při lovu na jelena. Voda z dvanácti teplých pramenů je dnes uží¬vána k léčbě zažívacích chorob a poruch látkové výměny. Město kromě toho pro¬slulo výrobou lázeňských oplatek, skla Moser, karlovarského porcelánu a Be¬cherovky, ale také pořádáním meziná¬rodního filmového festivalu, na který se sem sjíždějí slavné filmové osobnosti z celého světa.
Vzdálenost od apartmánu: 48 km
GPS position: 50°13'35.658"N, 12°52'49.804"E
Plzeň
Největší západočeské město ležící v mí¬stech, kde se stékají řeky Úhlava, Úslava, Mže a Radbuza a stává se z nich jediná řeka tekoucí dál pod názvem Berounka. Plzeň založil kolem roku 1295 král Václav II. a českému panov¬níkovi zůstali Plzeňští také vždy věrni. Do kulturních dějin se město zapsalo kromě jiného tím, že zde byla v roce 1468 vydána nejstarší česká tištěná kniha (Kronika trojánská).
Vzdálenost od apartmánu: 80 km
GPS position: 49°44'50.74"N, 13°22'38.84"E
Cheb
Cheb is an important historical and cultural centre of the region. Settlement in the area existed already in the early 9th century and in 1179 Cheb received status of a town. In the protected town centre, visitors find many Gothic and Baroque buildings, including a house where in Albrecht of Wallenstein, one of the most important generals of the Thirty Years' War, was assassinated by Scottish and Irish mercenaries in 1634.
35km / 22 miles
GPS position: 50°4'45.471"N, 12°22'12.735"E
Chodovar brewery
The family brewery in ChodováPlaná is built over medieval cellars cut into a granite rock. The oldest mention of the brewery comes from 1573 but current buildings of the complex were constructed in 1862. Visitors can enjoy a tour of a museum of brewery and refresh themselves a stylish restaurant located in the historical cellars.
12km / 7.5 miles
GPS position: 49°53'40.015"N, 12°43'34.613"E
Žirovice butterfly farm
This butterfly farm is found in the village of Žirovice between Františkovy Lázně and natural reservation SOOS. It was founded by a keen entomologist and butterfly collector Stanislav Macek in his farm. On the ground floor is a museum of entomology, collection of tropical butterflies, terrariums with caterpillars, and a very well supplied souvenir shop that offers everything from hand-made mugs and stained glass all the way to painted silk – all featuring butterfly themes. This is also the place to buy entrance tickets. On the first floor is a hothouse with tropical plants and living butterflies.
The butterfly farm is right next to the road and the house is clearly signed.
40km/25 miles
GPS position: 50° 8' 28.58'' 12° 21' 27.44''
---
Veľká Lomnica (SK)
Cog railway
Cog railway is a type of railway where propulsion power is transferred through a cog wheel that turns on a cogged track, which is secured in the axis of the rail track. The cog railway connecting Štrba and Štrbské Pleso has been in operation since 1896.
GPS: 49°5'3.660"N, 20°3'54.865"E
http://www.rail.sk/arp/slovakia/history/h182.htm

Belianska Cave


Belianska Cave is the largest cave in the Tatra National Park and the only one accessible to the public. It is located near the village of Tatranská Kotlina, in the easternmost part of Belianske Tatry. Entrance to the cave is found on the northern slope of Kobylí vrch, at altitude of 890m/9290ft.
GPS: 49°13'45.444"N, 20°19'0.840"E
http://www.ssj.sk/jaskyne/spristupnene/belianska/


Bilíkova Lodge

Bilíkova chata, meaning 'Bilík's Lodge' (at 1255m/4117ft) is found just under the Hrebienok centre, in the wooded terrain of Studená dolina (Cold Valley) on the south-eastern slopes of the mountain of Slavkovský štít. It operates year round and is accessible by foot from Hrebienok (where one can get by funicular or on foot from Starý Smokovec). The lodge also functions as a Mountain Rescue Centre.
GPS: 49°9'36.036"N, 20°13'28.020"E
www.bilikovachata.sk

Museum TANAP




The museum of the Tatra National Park (TANAP) in the High Tatras is one of the most popular museums in the area. Visitors have an opportunity to learn more about the flora and fauna of the Tatras, their protection and history of tourism in these mountains.

GPS: 49°9'58.572"N, 20°17'4.344"E
http://www.lesytanap.sk/04-sluzby/muzeum-tanapu.php


Štrbské pleso




Among all of the 'plesa', that is, glacial lakes of the Tatras, Štrbské pleso is probably the most popular one. It is belongs to the municipality of Štrba and is the second highest moraine lake in Slovakia (at 1346m/4416ft). It is a typical glacial lake with no visible outflow, depth of up to 20m/66ft, and surface iced over for up to 155 days a year. A cog railway connects it with the railway station of Štrba.
GPS: 49°7'29.172"N, 20°3'39.636"E